VP9GE


Ed Kelly




Data policy

1 Tarrafal Drive, Hamilton CR 04, Bermuda

-

Voice: 441-293-2525 Fax: 441-295-3559 | Maidenhead locator: FM72pi Location: 32.350N, 64.720W

---
KG2A/VP9
(December 2011 - January 2012)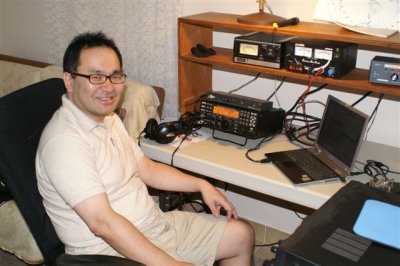 What a great experience in Bermuda!
Although I enjoyed sightseeing everyday during daytime, most of time during my stay
was used for QSO. Power is not a problem at all, each antenna works so well whenever
I operate at some band, there is a pile up. Sometime difficult to manage
it because my K3 has only 1 VFO in it.
Equipment: Elecraft K3
Antennas: Cushcraft A-4S, 40 meter dipole, double size G5RV and 160 meter inverted-L.
TOTALS KG2A/VP9
Last update 2012-01-02
Total QSO 5622
Unique callsigns 4228
Unique DXCC 89
Unique CQ Zones 30
Unique ITU Zones 35
Ed was a great host. Many thanks to Ed and his family for allowing me to operate
from their home on beautiful island of Bermuda. Thanks, also, Ed for all your
help in getting our Bermuda operating permit and with showing me around Bermuda.
He even create some QSL for me so that some people will get this soon
as a gift. I will be back again, hopefully for some contest.
---